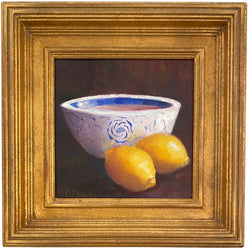 Bounty
Original oil by Debra Russell
Framed size: 12" x 12"
Art size: 8" x 8"
Deborah began painting at the age of eight. Her favorite subject is the Utah landscape, she also enjoys interpreting still lifes, figures and portraits onto her canvas. She especially enjoys painting smaller paintings "en plein aire" to be used as studies for larger works painted in the studio.
Debra currently maintains a working studio and gallery in Millcreek, UT, listing Interior Designers, art collectors and even children amongst her many collectors.