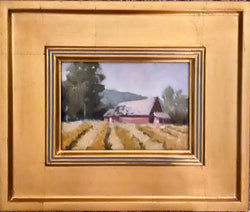 California Farm
Beautiful Original Oil By California Artist Robert Frank
Signed on the Back

Framed Size:  10 1/2" x 12 1/2" 
Robert Frank graduated from the Rhode Island School of Design with a BFA in Architecture. He has had a successful career as an architectural illustrator, fueled by his love for drawing and painting in conjunction with architecture.
Robert became inspired to create oil paintings of the lush landscapes surrounding Marin and Sonoma through studying plein air masters, such as the California Impressionist movement. His style is focused on representing the energy and serenity of the natural world, evoking a sense of calmness in the viewer. The colors of Northern California are his largest inspiration, fueling his exploration of color and texture.
He studied oil painting at the Academy of Art University to further his knowledge of various techniques and medium, as well as the history of painting.
His paintings and drawings are included in many private and corporate collections.