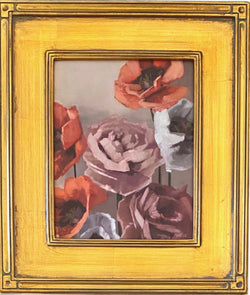 Coquelicot "Poppy"
Original Oil by Utah Artist Rachel Nelson
Art Size:  8" x 10"
Framed Size:  13" x 15"
Rachel's passion for oil painting first ignited in high school where she studied under local artist Marjorie McClure. It was with a push from Marjorie that Rachel applied for and received a scholarship to BYU to study studio arts in 2005. Hoping for a salaried (rather than freelance) job upon graduation, Rachel pivoted to BYU's Animation Department and received an animation scholarship in 2007. During her tenure studying animation, Rachel particularly enjoyed studying figure drawing and "illusion of life" classes which focused on light, texture and form. She sought out additional off-campus figure drawing classes and traveling sketchbook opportunities every chance she got, and earned her BFA in 2009.
Fast forward four children and a handful of moves later, Rachel's art career was briefly sidelined but never forgotten—she completed freelance commissions in her scant spare time. She and her husband Jeff and their kids now live in Holladay and Rachel has returned to her first love of oil painting. She has realized that the freelance lifestyle she dreaded in college is not so bad after all, especially for a mom with young kids at home. Since 2015 Rachel has won several editors choice awards on the globally-recognized website Minted which sells prints of her artwork, along with West Elm. She sells her original work several times a year through local shows, frequently including the Utah Art Market.
Rachel's art is traditional and representational, sometimes leaning toward contemporary. She loves studying many subjects through the lens of her paint box but most frequently can be found painting florals and pastoral landscapes. Her favorite flower to paint continues to be peonies for their dozens of layers of petals, rich colors, sumptuous texture, and the shape of their blooms.