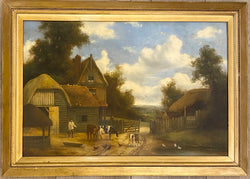 Antique 19th Century Original Oil
By English Artist Charles Vickers (1821-1895)
Beautiful farm scene in Europe
Framed Size: 20" x 28"

Charles Vickers was born in Worthing in 1821. He is a highly regarded Victorian period British artist who specialised in rustic narrative genre often incorporating farm livestock. His talent was revealed at an early age and won a scholarship to study at the prestigious South Kensington School of Art before spending ten years living on the Continent from 1845 to 1855 which culminated in his winning the Medaille d'Argent at the Ecole des Beaux Arts in Paris. He his noted for his excellent perspective of his palette and rendition of trees illustrating a period before they were widely uprooted to create large agricultural fields. This fine piece retains its original frame in fine condition.
All antique items have some evidence of wear which is part of their charm. The history and soul of the piece are in its handmade nature. May have minor imperfections due to aging.