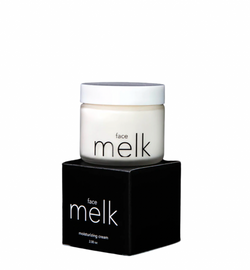 Face Melk Moisturizing Cream
Your most essential daily face cream, ever! Made with natural ingredients and essential oils to hydrate and rejuvenate your skin daily. Your best skin, in a jar. 
2.00 oz jar
All these natural powerhouse essential oils work together to give you your best skin ever. With natural properties to fight, balance, and maintain healthy glowing skin. These essential oils will help you achieve beautiful, dewy, and soft skin. We like to call it, that melky glow.
anti-aging benefits
superfood ingredients nourish and quench skin
tones and soothes skin
antioxidants protect against pollution
ultra-hydrating helps to promote and maintain healthy skin