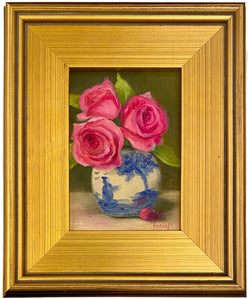 Fuschia in Blue and White
Original Oil by Ferial
Framed Size: 10" x 12"
Art Size: 5" x 7"
Artist Statement: I emigrated to the US over forty years ago.   We had a toddler and our second son was born a year later. So I was busy being a Mom and family care taker!   In 2004, after my children left the house, I discovered painting. and fell in love with it.  I started taking classes at our local community college.   I love living in So. California, very close to Laguna Beach!  It is beautiful and inspiring with so many Art related happenings!  I paint in oils and I do a  lot of studio paintings from life.  Setting my Still Life's are fun and it takes a long time for me to get the right composition, mood and effect, but certainly worth the time!   I also do figurative paintings and landscapes from photographs I take where I travel to.  I want the viewer of my paintings see and feel the beauty I see in everything in my life and experience that joy.  One of my strongest loves are for flowers, specially roses.
I love the play of light and shadows on objects and flowers.  The shadows help to dramatize the paintings and are an important part.  I have had quite a lot of Artistic influences in workshops with such masters  like David Leffel, Jeff Watts, John Cosby, Jackie Kamin, Daniel J. Keys and others whose work I admire.  I study their works,  I learn from them, they help me in my Artistic journey.  I am always a student of Arts!
I have won several awards, have been featured in Southweat Art as "Artists to watch" and I am represented by Arist Eye Gallery in Laguna Beach and Cottage Gallery in San Juan Capistrano.   
I have exhibited and won numerous awards in shows and competitions in different states and countries.  My work hangs in private collections worldwide.