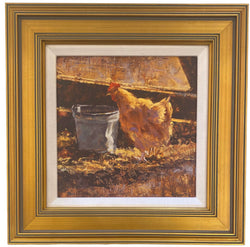 Hen
Giclee by Sheryl Thornton
Framed Size:  12.5" x 12.5" 
"My love of texture led me to oil paint and I have never looked back. I love the contrast of juicy washes (my watercolor influence), thick bold brush strokes and palette knife, all of which are usually present in my work."
Landscapes are her most common subject but she also enjoys painting still life and animals. Her approach is impressionistic and bold, with an emphasis on mood. "When I decide on a subject it is always because something compels me to paint it. I find a painting will lack conviction if I haven't been there or felt something about the subject. I try very hard to transfer that feeling to the painting which hopefully is conveyed to the viewer. Painting is my "life's blood"and I am so grateful for the deeper level of "seeing"that it has given me".