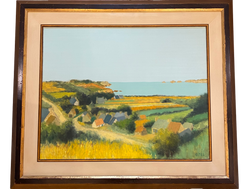 Cottage Coastline
Beautiful Vintage Original Oil
Signed by French Artist Jacques Eitel
Excellent Condition 
Framed Size:  39" x 45" 
Eitel was born in Paris in 1926. He studies at the Ecole des Beaux-Arts in Paris. Eitel started to exhibit in major group shows in 1946. In 1957 he was awarded the Grand Prix de Montmartre. The French government bought his works as did the City of Paris and the Museum of the Navy.  He exhibited regularly at all major Salons of Paris including the Salon de la Jeune Peinture (where he was elected a member of the Directing Committee and the Jury). He also exhibited at the Salon d'Aujourd' hui. He participated in many group shows in France such as the Ecole de Paris at the Galerie Charpentier, at the Societe des Amateurs D'Arts, the Peinture Francaise in Vichy, the Bordeaux, and abroad in America, Sweden, Germany, England, Switzerland and Belgium. In 1957 he had a one-man show at the Galerie Raffy, Paris and in 1959 and 1962 he exhibited at the Galerie Framond in Paris and Piccadilly Gallery in London.
From Veranda Feb. 6, 2023:  
"Decorating with vintage items adds character, uniqueness, and history that is often difficult to achieve with mass-produced items," says Sara Swabb, interior designer and founder of Georgetown-based interior design firm. "Using vintage pieces can be a conversation starter and way to infuse your personal heritage, style, and memories into a space." Swabb says that vintage items "often have a quality and craftsmanship that is not often found in new items at a similar price point." Not to mention, you're upcycling older items, which is a more sustainable way to shop—and so better for the environment!
Things You Should Be Buying Vintage Instead of New
Oil Paintings
To really stand out from the crowd designers suggest looking for original vintage artwork. "While they might be more on the expensive side, older paintings tend to have a piece of history you won't find in more modern paintings," says Trembley.
Consider looking through stores for paintings that aren't always in the best condition: Not only does character lie in those not-so-perfect finishes, but that beautiful portrait might be worth quite a bit of money someday! If an item calls to you and it has a few scratches and nicks on it, Trembley recommends not to forget about it so quickly. You can always find an art restoration company to help you get it looking good as new again."