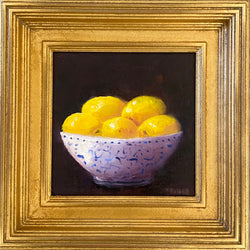 Original Oil by Debra Russell
Art Size:  8"x8"
Framed Size:  12" x 12"
Debra's first art class was at the University of Utah Children's Summer School at the age of 8, which began a lifelong passion for the arts. She first discovered her talent for painting when she had the opportunity to paint "plein air" with the late LeConte Stewart. With Mr. Stewart's encouragement, she began painting in the late 80's. Motherhood happily interrupted her work for several years, but she was able to return to oil painting 10 years ago. Since then, she has been fortunate to study with a number of distinguished artists including Anne Marie Oborn, Ovannes Berberian, David Koch, John Hughes, Rick Graham and Bonnie Posselli.
Like most artists she continues to study and learn new techniques from peers, mentors and classic art books, choosing bits and pieces from each to develop her own style. Her works of art range from miniatures to larger 36x40-inch paintings. While her favorite subject is the Utah landscape, she also enjoys interpreting still lifes, figures and portraits onto her canvas. She especially enjoys painting smaller paintings "en plein aire" to be used as studies for larger works painted in the studio.
Debra currently maintains a working studio and gallery in Millcreek, listing Interior Designers, art collectors and even children amongst her many collectors.