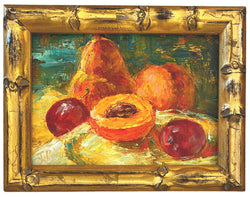 Let's Discuss
Original Oil by Janet Reid Wilson
Framed Size:  7" x 9"
Capturing light is my lifelong passionate pursuit as a career artist. In my still life, I enjoy creating work that transforms the ordinary into something transcendant. My landscapes are inspired mostly by my years of plein air painting in Muskoka, a lake district in Ontario, Canada. For several years I've been following the discipline of daily painting. This kind of direct, "wet on wet" technique gives avibrant loose and spontaneous look. I have used some of these sketches as inspiration for larger works. I apply the professional quality oil paint mostly with palette knives on personally prepared cradled wood panels.
I live in a small village in Ontario, Canada. Eden Mills is aptly named. My studio overlooks a small river and there are many wooded trails that provide inspiration and solace.