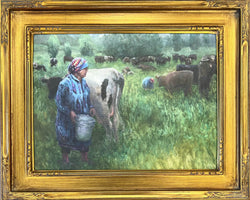 Morning's Work
Giclee by Marty Ricks
Framed Size:  12" x 15" 
My dad was the son of an Idaho Turkey farmer but he always dreamed of becoming an artist. He chose to stay in small town Idaho to raise his 7 kids. Four boys, three girls. He became a sign painter and we all worked in that business as we grew up. When my dad was 40, he met Sergei Bongart who had immigrated (escaped) from Ukraine after WW2. That meeting changed everything.
Three of my brothers became professional artists. I was the youngest and the least interested in art. At 17 I started a picture frame company which later morphed into Allman-Ricks Master Frame Makers. Various other iterations but when I turned 40, the "wolf" as my dad and brother referred to the art bug; that wolf consumed me whole.
 I've thought a lot about nurture or nature as it relates to how artists are created. I'm sure that I have no new thoughts to add to the conversation. I will simply say this…"painting is a disease, the only cure for which is another painting."  Milford Zornes