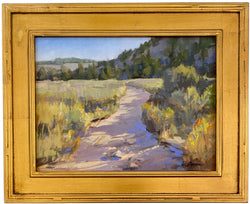 Mountain Trail
Original oil by Eileen Guernsey Brown
Scene from Teton Canyon, Driggs, Idaho
Framed size: 12.5" x 15.5"
Art size: 9" x 12"
Artist Statement:
I enjoy everything about being outdoors– the sounds, smells, colors and rapidly changing light. Plein air painting challenges the artist to capture immediate impressions of what the eye sees. Working directly from life is the visual process that inspires and motivates me. My goal is to use fresh brushwork and expressive color to create a painterly translation of the subject. As Edgar Degas put it, "Art is not what you see, but what you make others see."
Background:
Eileen is an oil painter who is active and enjoys spending time outdoors, usually combining her painting with a river trip, hiking or camping -- somewhere in the west.
 Earning a BFA in Graphic Design from the University of Utah, Eileen worked for a decade as a freelance design artist. Later received a BA in Education and taught in the Salt Lake School district for many years, the last ten as a middle school art teacher.
 Eileen has continued her education by studying with other artists she admires, such as John Poon, Jill Carver, Ray Roberts, and Eric Jacobsen. 
 Her work can be found in several Utah galleries:  Relics Gallery (Salt Lake City), Spring City Art Gallery (Spring City) and Artisans  (Cedar City), and in private collections throughout the United States.