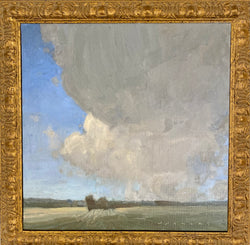 Oil on panel by Erin Spencer
Framed Size:  11 1/2" x 11 1/2" 
Floating in a custom ornate gold frame.  
Looking at art is looking at the world through the lens of the artist. My personal process begins with observation and study of the natural world in all its splendid variation. Whether working from life or from sketches back in my studio, my paintings become translations of what I perceive. The beauty of this is that I will always have work to do, poems to create from my personal impressions of the world. My style tends to be impressionistic and responsive as I seek to distill the elements of the landscape to their simplest forms, looking for a balance between representation, abstract mark making, and emotional gesture. Everywhere I go I see stories in the landscape, and I strive to find ways to tell that story through my work.
I have spent more than fifteen years documenting landscapes and seascapes from around the country and in Europe, all the way from California to New England and from England to France and to the Netherlands. I live and work in Rhode Island with my husband, Peter, and our three children by my side. I have been exhibiting since 2008, and my paintings are included in private collections around the world including across the United States, Canada, Europe, Israel, Australia, and Japan.