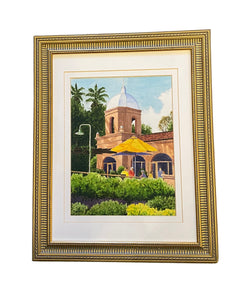 Hotel California
Original Watercolor  by R. Molen
Framed Size: 15" x 19"  
Ronald Lowry Molen was born in Hammond, Indiana in 1929. He currently lives and paints in oils with his wife Norma Molen in their studio in Salt Lake City, Utah.
Molen studied at Indiana University and the University of Utah. He is an architect and planner/builder/ developer who designed a distictive form of residential and professional building- a mansard-roofed, shake-shingled facade that became a huge success in the Salt Lake Valley and beyond.
Examples of Molen's work have been exhibited in numerous galleries throughout Utah including: Gallery at the Station, The Springville Museum of Art, and the Gallery at Libray Square.