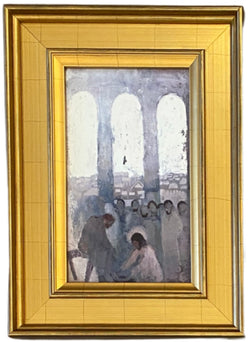 Servant of All
Giclee by J Kirk Richards
Framed Size:  8.5" x 12"
J Kirk Richards is a contemporary artist whose work engages with themes of antiquity, religion, spirituality, equality, and love. His work asks questions about modern application and implementation of religion as it relates to historical narratives and mythologies. The work often prioritizes the poetry of religious text over dogma or historical accuracy. Stylistically it often bridges or walks a tightrope between classical and abstract expression.
From 1999 to 2022, Kirk created about 2300 physical works of art, most of which can be found in private collections throughout the United States. His images have been licensed for devotional and religious studies publications internationally.
In 2020, Kirk founded a mixed-use art space, including studio rentals, a gallery that hosts monthly themed exhibits by living professionals and semi-professionals, and a continued education art academy.
Kirk lives and works at his studios in Woodland Hills, Redmond, and Provo, Utah, and in Bondsville, Massachusetts. He and his wife Amy Tolk Richards have four children.