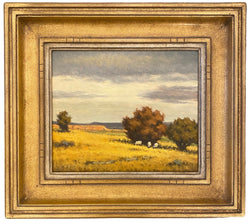 Outside of Monticello
Original oil of Monticello, Utah by Steve McGinty
Art Size: 10" x 12"
Framed Size: 16.5" x 18.5"
"My intention is not to copy nature, but to capture a peaceful moment with feeling, mood, and simplicity. Thus allowing the viewer to participate more in their own interpretation of the scene. If I give them all the information in the immense detail of a painting, I have robbed the viewer of their integral part of involvement in my work."
"Some of my first memories I have growing up were of going to my Grandparent's house off of 5600 South and about 1400 East in the Murray/Holladay area where Extra Space Storage and Vasa Fitness are today. My Grandfather had a wonderful Fish Hatchery where that whole shopping area is today. Every Sunday night we would go out from our house in Sugar House to get milk from his cow and watch the Wonderful World of Disney and Bonanza on the first color tv I had ever seen. Grilled cheese or tuna sandwiches, potato chips and carrot sticks with Mac Rootbeer and a chocolate cake made from scratch were always our feast. He had horses cows and chickens and I was always trying to hitch a ride on one of his horses. Before I was 9 he had to move his business up to where the Jordanelle Reservoir is today. 9 acres of heaven, ponds and pastures, more horses, cows and chickens and as I got older I had the great blessing of spending a lot of my time in the summers up there. One of my chores was to move the horses from one pasture to another to keep them from over grazing. It was from those daily chores that my love for farm animals was born. His neighbor had a large sheep ranch and I loved all the peaceful scenes of tranquil sheep grazing.
When I married my wife her family had many properties and horses to enrich my experience and life with their care and enjoyment.
Many, many tree lined pastures were the backdrops for time shared with all these animals.
Thus my love to share in paint the peaceful experiences and scenes of these memories was born."