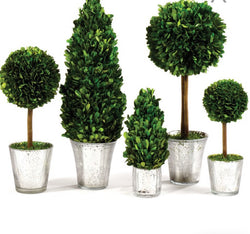 Small Boxwood Topiary in Mercury Glass Pot, Asst. Styles
Real English boxwoods, preserved and painstakingly assembled by our masterful artists. Intended for indoor use.  Keep away from direct sunlight to help minimize fading.  Choose from a variety of styles.
Largest size 6" x 6" x 12"
Smallest 3.5" x.3.5" x8"