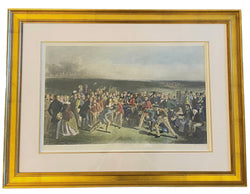 The Golfers
Beautiful Print of Antique Hand Colored Engraving
(Circa 1847)
By Charles Lees
This painting shows a match being played on the St Andrews Links by members of the Royal and Ancient Golf Club. The centre of everybody's attention is a decisive moment in a match between Sir David Baird and Sir Ralph Anstruther against Major Hugh Lyon Playfair and John Campbell of Glen Saddel. Lees carefully composed this complex scene, which includes over fifty individual portraits, using photographs of some of the golfers to help him.
Charles Lees was born in Cupar, Fife. He trained as a painter in Edinburgh with the eminent portraitist, Sir Henry Raeburn. After six months in Rome he returned to Edinburgh where he established himself as a portrait painter. Lees was elected a Royal Scottish Academician in 1830. From the 1840s Lees built himself a reputation as a specialist in depicting sporting subjects; 'The Golfers' was his first major sporting picture.
The original is in the Scottish National Portrait Gallery
Purchased in Scotland 
Brand new frame, double mat and gold fillet
Framed Size:  35" x 26" 
From Veranda Feb. 6, 2023:  
"Decorating with vintage items adds character, uniqueness, and history that is often difficult to achieve with mass-produced items," says Sara Swabb, interior designer and founder of Georgetown-based interior design firm. "Using vintage pieces can be a conversation starter and way to infuse your personal heritage, style, and memories into a space." Swabb says that vintage items "often have a quality and craftsmanship that is not often found in new items at a similar price point." Not to mention, you're upcycling older items, which is a more sustainable way to shop—and so better for the environment!
Things You Should Be Buying Vintage Instead of New
Oil Paintings
To really stand out from the crowd designers suggest looking for original vintage artwork. "While they might be more on the expensive side, older paintings tend to have a piece of history you won't find in more modern paintings," says Trembley.
Consider looking through stores for paintings that aren't always in the best condition: Not only does character lie in those not-so-perfect finishes, but that beautiful portrait might be worth quite a bit of money someday! If an item calls to you and it has a few scratches and nicks on it, Trembley recommends not to forget about it so quickly. You can always find an art restoration company to help you get it looking good as new again."