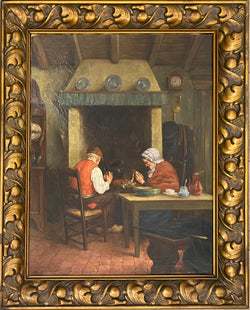 Together Near the Fireplace
Antique Beautiful Original Oil
Signed by L. Stuyts 
From The Netherlands
Framed Size:  23.5" x 29.5"
Lucien Stuyts (1879-1962) was a famous Belgian Artist who studied in the Academy in Antwerp.  He painted various heath landscapes and worked abroad such as Paris where he painted this work.
From Veranda Feb. 6, 2023:  
"Decorating with vintage items adds character, uniqueness, and history that is often difficult to achieve with mass-produced items," says Sara Swabb, interior designer and founder of Georgetown-based interior design firm. "Using vintage pieces can be a conversation starter and way to infuse your personal heritage, style, and memories into a space." Swabb says that vintage items "often have a quality and craftsmanship that is not often found in new items at a similar price point." Not to mention, you're upcycling older items, which is a more sustainable way to shop—and so better for the environment!
Things You Should Be Buying Vintage Instead of New
Oil Paintings
To really stand out from the crowd designers suggest looking for original vintage artwork. "While they might be more on the expensive side, older paintings tend to have a piece of history you won't find in more modern paintings," says Trembley.
Consider looking through stores for paintings that aren't always in the best condition: Not only does character lie in those not-so-perfect finishes, but that beautiful portrait might be worth quite a bit of money someday! If an item calls to you and it has a few scratches and nicks on it, Trembley recommends not to forget about it so quickly. You can always find an art restoration company to help you get it looking good as new again."