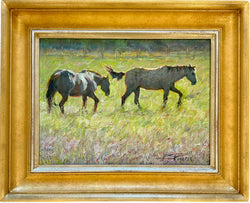 Where You Lead
Beautiful Original Oil by Utah Artist Bonnie Posselli 
Framed size: 21.5" x 17.5"
Bonnie Posselli was born in Salt Lake City, Utah in 1942. A plein-air painter and western regionalist, her work focuses on her emotional response to Main Street America, agrarian scenes, and forests. She lives in Salt Lake City.
Posselli joined the Plein-Air Society, led by brothers Ken and Dan Baxter. She studied under Alvin Gittins at the University of Utah . She earned a degree in illustration from a technical college in 1982, but did not pursue commercial art as a profession, preferring to paint landscapes in the plein-air style, focusing on the effects of light.
San Rafael Swell and Old Town Park City are some examples of her work. In 2002, Poselli was selected by Springville Museum of Art as one of its top painters, and in 2001 and 2003 she was selected to participate in the Plein-Air Painters of America Exhibition on Santa Catalina Island.
Winner of the Arts For The Parks Grand Canyon Purchase Award
Founding member Plein Air Painters of Utah
2010 People's Choice Award, Maynard Dixon Country Invitational
Featured Artist Southwest Art Magazine January 2005
Invited Guest of PAPA (Plein Air Painters of America) 2002, 2003
One of the 100 Best Artists of Utah, Springville Art Museum 2002 curatorial committee
2002 Arts for the Parks Grand Canyon Purchase Award 
Dixie College Invitational Purchase Award 
Deseret News Purchase Award 
Utah Governor's Mansion Artist Award