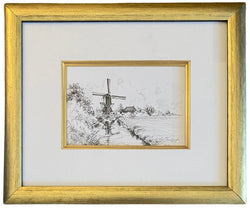 Dutch Pen Study
Pen and Ink sketch by Morgan VanDenBerghe
Framed Size:  10" x 12" 
Since Morgan was a young girl, she has created art. If you had asked her what she wanted to be when she grew up, the answer was always an artist. That dream led her to study at the University of Utah and graduate with an emphasis in drawing and painting.
Morgan has always been influenced by her Dutch heritage. Her grandfather was born in Rotterdam and the Dutch scenery has always been a source of inspiration for her. Morgan loves to paint landscapes and portraits that have meaning and feeling behind them. She wishes to capture the quiet moments in nature with subtle color and light changes, and for the viewer to escape in her paintings. Oils and watercolors are her mediums of choice with ink drawing close behind. Her particularly favorite subjects are windmills, dark moody skies, and her two young daughters.