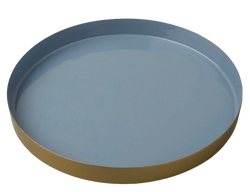 Brass and Enamel Tray
Whether you're setting the table or simply seeking an elegant pop of color, this stylish selection of ethically crafted enamel round trays will do just the trick. Illuminated by their unmistakable gold halo, each of these vibrant little beauties was expertly assembled by hand using sustainable materials whenever possible.
Dusky blue enamel and brass tray
Made in India,  Handwash.
12" diameter, 1.5" tall