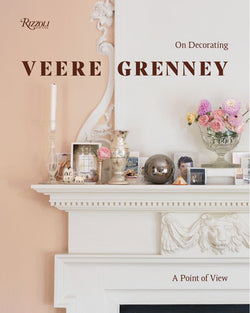 Veere Grenney: A Point of View On Decorating
The first book from AD100 designer Veere Grenney—the master of streamlined, glamorous, classical rooms with an English touch—eloquently explores not only the hows but also the whys of decorating.
Featuring thirty years of acclaimed interiors, paired with thoughtful advice and packaged with a real cloth case and mixed paper stocks, 
A Point of View
 is a rich album of Grenney's decorating work, from London townhouses to Long Island estates, with multiple images per page. Organized by room, these chapters feature Grenney's room-by-room decorating philosophy for entrances, living rooms, dining rooms, bedrooms, and kitchens, and explore thematic topics such as Englishness and composition and balance. Grenney also shares his own story, from his early years on the '70s London design scene to starting his own firm, from his first flat in London to his renovation of David Hicks' former house, the Temple, to his new holiday house in Tangier. There is also a chapter on the iconic designers who have inspired him. Whether it's a country house or an urbane apartment, Grenney's world is one of settled calm and welcoming comfort, where there are always generous fireplaces to sit in front of, billiard rooms and stone passages, and utility rooms where boots and coats are stored; grandeur and modesty side by side. This book is a must for Anglophiles and design lovers.