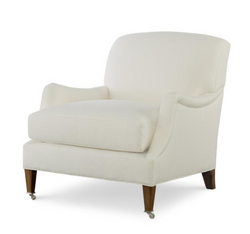 Dorset Legged Chair
Elegant, deep and inviting, this classic English Roll Arm chair has neatly tailored upholstery. Front legs with casters provide for easy mobility. Topstitching on seat cushions is standard.
W: 32.50 in D: 38 in H: 34 in
Price listed is for the basic furniture piece. If you're interested in fabric customization please contact us so we can give you an accurate quote.