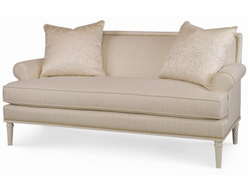 Abby Loveseat | Eliza Collection
Graceful lines and tapered legs combine to create a classic sillouette in this piece. A comfortable tight back provides unparalleled support.
W: 70 in D: 36.50 in H: 34.50 in
Price listed is for the basic furniture piece. If you're interested in fabric customization please contact us so we can give you an accurate quote.