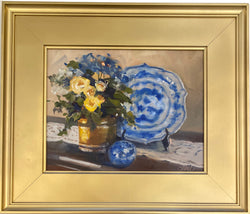 Blue and Yellow Still Life
Original Oil by Laurel Hart
Framed Size: 17.5" x 20.5"
Art Size: 11" x 14"
Laurel Hart was raised in Salt Lake City and is a graduate of the University of Utah. Although her degree was in education, she also received a fine arts minor, which opened her heart to a love of  painting. She enjoys painting a variety of subjects from figures, to red rock to historical structures that she photographs throughout her beautiful state. She has studied painting for over three decades, taking college level classes as well as workshops from private instructors all over the country. A teacher herself, Laurel has taught watercolor workshops for various art organizations as well as private groups.
 Laurel's paintings have hung in national juried exhibitions from coast to coast, including those of the American Watercolor Society and the National Watercolor Society. Her work has been featured in The Artist's Magazine, Watercolor Magic, Southwest Art, and the popular watercolor books, Splash Eight, and Splash Nine. She is the author of the book,Putting People in Your Paintings, published by North Light Books in 2007.
 Laurel is a signature member of the American Watercolor Society and holds additional signature memberships in the National Watercolor Society, Watercolor West, Western Federation Society, and the Utah Watercolor Society. Her paintings have won numerous awards, including the Gold Medal of Honor in the 2005 American Watercolor Society International Exhibition, one of the highlights of her art career. Her work can be found in public and private collections throughout the country, including the Utah State Capitol Building.
 In June of 2008, Utah's Governor Jon Huntsman honored her with a one person show at the Governor's Mansion.