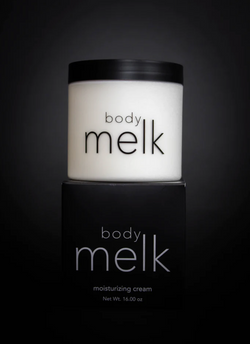 Body Melk
WHAT IT IS
 "Clears skin from breakouts, redness, irritation, and unevenness. Highly effective and worth the cost!"
 "Sinks into the skin and provides hydration and refreshment. It leaves the skin feeling soft to the touch. Has provided a noticeable improvement in the skin's appearance."
Sick of trying to put Face Melk all over your body? We have finally launched the most dreamy, creamy, hydrating, and skin-healing clean body cream! We have limited stock! This will sell out!
WHAT IT DOES
Frankincense: tightens and brightens skin, and shrinks pores.
Sandalwood: anti-inflammatory and healing. Lavender:

reduces inflammation, soothes irritated and red skin.

Myrrh: powerful antioxidant, helps with blemishes, eczema, and other skin ailments.
Helichrysum: anti-microbial and anti biotic, promotes healthy skin cell turn over.
Rose: refines skin texture and helps to control many skin conditions like psoriasis.
WHY WE LOVE IT
All these natural powerhouse essential oils work together to give you your best skin ever. With natural properties to fight, balance, and maintain healthy glowing skin. These essential oils will help you achieve beautiful, dewy, and soft skin. We like to call it, that melky glow.
anti-aging benefits
superfood ingredients nourish and quench skin
anti-inflammatory tones and soothes skin
antioxidants protect against pollution
ultra-hydrating helps to promote and maintain healthy skin
natural & clean ingredients| paraben-free | sultate-free | crueity-free| gluten-free | vegan | no synthetic dyes or fragrances