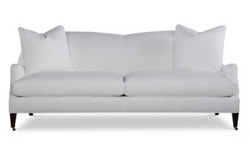 Dorset Legged Sofa | Cara Collection
Elegant, deep and inviting, this classic English Roll Arm sofa has neatly tailored upholstery. Front legs with casters provide for easy mobility. Topstitching on seat cushions is standard.
W: 84 in D: 38 in H: 34 in
 Price listed is for the basic furniture piece. If you're interested in fabric customization please contact us so we can give you an accurate quote.