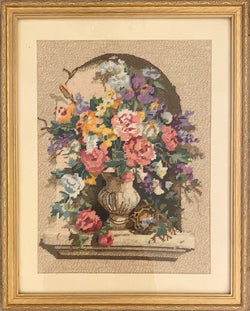 Garden Flowers
Beautiful Vintage Needlepoint 
Handmade Excellent Condition
Original Frame with Glass
Framed Size:  15.5" x 19.5"
All vintage items have some evidence of wear which is part of their charm. The history and soul of the piece are in its handmade nature.  May have minor imperfections due to aging.
From Veranda Feb. 6, 2023:  
"Decorating with vintage items adds character, uniqueness, and history that is often difficult to achieve with mass-produced items," says Sara Swabb, interior designer and founder of Georgetown-based interior design firm. "Using vintage pieces can be a conversation starter and way to infuse your personal heritage, style, and memories into a space." Swabb says that vintage items "often have a quality and craftsmanship that is not often found in new items at a similar price point." Not to mention, you're upcycling older items, which is a more sustainable way to shop—and so better for the environment!