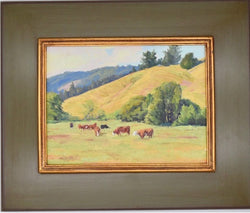 Out To Pasture I
Original Oil by Bart Walker
Framed Size:  15.25" x 18.25"
"Living in Teton Valley, Idaho" observes Walker, "I'll always have beautiful places to paint. As an artist, I enjoy painting still life, architectural and figurative works. Some artists are known for painting landscapes well, or perhaps people well" says Walker thoughtfully. "I want to be known for painting all subjects well."
Walker's work is exhibited year round at Kneeland Gallery, Ketchum, Idaho, where he has participated in two Plein Air exhibitions and several group shows.