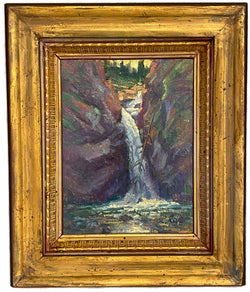 Grotto Falls
Original oil by Russell Ricks
Art size: 6" x 8"
Framed size: 11" x 13"
Russell Ricks knew from a very young age that he would be an artist. As early as eight years old, he proclaimed to anyone who would listen, "My name is Russell Ricks and I'm an Artist!" Growing up in a creative household with six imaginative siblings, a musically gifted mother, and a father that was a fulltime oil painter and art teacher helped Ricks achieve that dream.  All four of the Ricks boys have, at one time or another, pursued oil painting as a career.  Although, Ricks' three sisters don't paint, they design with fabric, food, and more.
Ricks' summers were filled with assisting students of his father, Don Ricks, and his Painting Vacations. Ricks would help set up easels and then learn to paint under the tutelage of Sergei Bongart, Milford Zornes, and his father.  The workshops were primarily en plein air, instilling in Ricks a lifelong devotion to plein air painting.
Sergei Bongart left a lasting impression on young Ricks, giving him a personal introduction to art by a Russian Master. Ricks is also greatly influenced by Russian artist, Isaac Levitan.
Ricks' artwork reflects the serenity and historicity of his childhood surroundings of Rexburg, Idaho. Readily available were the subjects of old pioneer farms, river tributaries, Yellowstone National Park, and the Grand Teton National Park. Aspen forests, pastorals, and rural living have been recurrent themes in Ricks' paintings over the years. They were what he became familiar with as a youth—they have become a part of who he is.
Ricks now resides and paints in Payson, a rural community in central Utah. Here he has access to the diverse scenery of the Wasatch Mountains, as well as old historic pioneer homes and churches in the area.
As a young adult, Ricks attended Ricks College, (now BYU-I), where he received an Associates Degree in Art. He received further formal instruction at Brigham Young University in Provo, Utah.
In 2015, Ricks was privileged to have a one-man show at the highly acclaimed Springville Museum of Art in Springville, Utah. The show, Passages and Pathways, highlighted Ricks' ability to capture the heart of rural life. In their words, "Russell Ricks invites the viewer to follow along as he evokes memories of places of historical and spiritual significance. He records firsthand the metaphorical and literal pathways that alert us to the timeless beauties of nature as well as spiritual and patriotic icons of small town America."
Ricks has also been featured in a one-man show at the Covey Center for the Arts located in Provo, Utah, and  has participated on numerous occasions in the Spring Salon at the Springville Museum of Art. In 2012, he participated in Celebration of Fine Arts in Scottsdale, Arizona and was featured in the American Art Collector publication.  One of Ricks' most iconic images, In Search of Sweeter Grasses, is now in the permanent collection of the Springville Museum of Art.
          Along with his fine art pieces, Ricks has produced a number of wall murals in homes and businesses across the U.S. Alcoa, Novatek,  Cabela's  and Young Living Essential Oils are just a few of the businesses Ricks has done work for. His largest mural to date pictures the Wasatch Mountains of Utah County, Utah. It measures 22 feet high and 200 feet long. Ricks stays true to his painting method and style when doing his murals so the patron essentially acquires a very large fine art painting applied directly to the wall. The size and quality of these magnificent murals skillfully reflect the grandeur of the mountains they depict.
When not in his studio, Ricks loves to be in the mountains hiking, trail riding, camping and gathering material for his next projects. Ricks can be found reading a good book, getting creative with cooking, or watching off-the-wall movies with his wife during his down time.
Amidst a fast-paced world, Ricks' artwork begs us to slow down, take a breath, and escape—if just for a moment—to a place of serenity and peace. It carries the viewer back to a simpler time, evoking a feeling of coming home