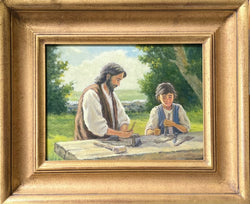 A Father's Influence
Original Oil by Utah artist, Steve McGinty, depicting Christ as a child learning from his earthly Father, Joseph. 
Art size 9"x12" beautifully framed in an antique gold frame Framed Size:  12"x15"
Comes with an optional gold plaque citing Luke 2:52:
"And Jesus increased in wisdom and stature, and in favour with God and man."
"My intention is not to copy nature, but to capture a peaceful moment with feeling, mood, and simplicity. Thus allowing the viewer to participate more in their own interpretation of the scene. If I give them all the information in the immense detail of a painting, I have robbed the viewer of their integral part of involvement in my work."