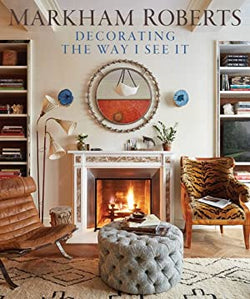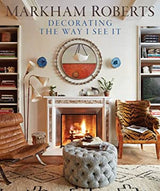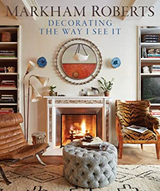 Markham Roberts Decorating: The Way I See It
Known for his ability to work in any design vernacular, Markham Roberts brings a
fresh approach to traditional and contemporary styles alike. His work is not defined by
signature looks or design trends. Rather, using an inventive combination of layered
patterns and color as well as bold juxtapositions of furniture of different styles and
periods, custom designs, and works of art from around the world, he creates interiors
that have been described as "the very definition of chic."
Roberts structures the book as he would a project, taking readers step-by-step
through the design process, beginning with the basic interior elements—floor plan and
furniture layout, color palette and fabric schemes, furniture selection, and
incorporation of objects and art—and moves on to architecture, landscaping, and
gardens, showing the important interrelationship between interior and exterior design.

Finally, he puts all of the pieces together, using his own country house, a nineteenth-
century gentleman's farm in the Hudson Valley, as an example.

Illustrated with more than 350 photographs of some forty projects, including New
York City apartments large and small, historic estates on Long Island, seaside Florida
mansions, stately Southern and Midwestern houses, rustic Montana ski retreats, and
modern Puget Sound compounds, Decorating: The Way I See It reveals Markham
Roberts's diversity and sophistication as a decorator. Whether working on private
projects or for clients across the country, he infuses interiors with his personal, and
exceptionally personable, touch.