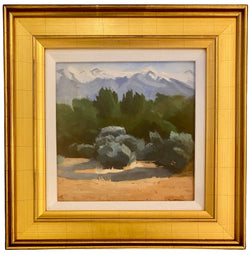 Three Sages
Giclee by Pam Walsh
Framed Size:  12.5" x 12.5"
I'm a former New York City girl who moved to Utah over 25 years ago and fell in love with the Wasatch Front.  New York City may have many exciting attractions, but nothing compares to being able to step out my front door and see the beauty of snow-capped mountains. Those majestic peaks rekindled my childhood desire to be an artist. So, after leaving my career and raising my son, I decided it was time for the little girl in me to fulfill her dream.
 I spent countless hours taking lessons from local artists and dabbling with various genres like portrait painting and still life. Then, in 2019 I decided to combine my love of painting with the magic of nature and ventured into Plein-air painting. Like laughing and spending time with a friend or reading an engrossing book by a warm fire, some things are meant to be together.