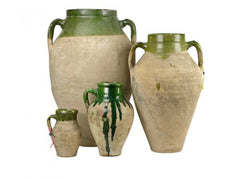 Olive Jar, assorted sizes
Olives and olive oil have been staples of Mediterranean cooking for thousands of years. These vintage jars were used to cure and store olives and their fine oils in kitchens across Europe. Bring a taste of the exotic home with one of our handpicked vessels. Each jar bears individual marks of use and history.
Size, color & condition vary.
Available in:

Mini: Approx. 5" dia x 7"

Medium: Approx. 11" dia x 17"

Large: Approx.14" x 21"