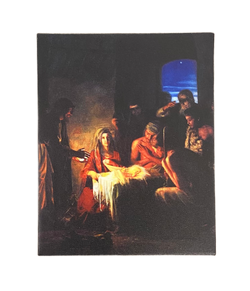 Beautiful Giclee on Canvas Block
By Carl Bloch
Size:  8" x 10"
The Danish painter, Carl Heinrich Bloch, was born on May 23, 1834, in Copenhagen, Denmark.  He was the son of merchant Joergen Peter Bloch and Ida Emilie Ulrikke Henriette Weitzmann Bloch. Counter to his parent's wishes, he became a painter rather than an officer in the Danish Navy.

In January 1849, he began study at the Royal Danish Academy of Art.  In 1852, he was awarded a small silver medal for one of his drawings, which was exhibited the following year at the Academy.

In 1855, Bloch joined the Royal Danish Academy of Art, where on August 1, 1859 he received a travel grant, which he used to study in Holland, France and Italy with his best friend and fellow artist, Anton Dorph.
He is one of the best-known Danish artists of his time. He would go on to paint commissions for churches, palaces, and the University of Copenhagen and would eventually hold prominent positions in the Royal Danish Academy of Fine Arts.