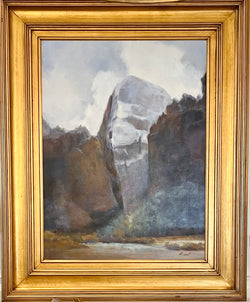 White Throne
Large Original Oil by Candace Rideout
A stunning piece of Art
Framed Size:  43" x 55" 
Local pick-up only
Candace Rideout is an established Utah artist with forty years of experience. Ms. Rideout graduated from the University of Utah with a double major in Education and Drawing & Painting. As a student she was selected as the outstanding water colorist in her graduating class. Rideout's oil paintings are included in several private collections in the United States and Europe.
A Bachelor of Fine Art degree set Candace on a career path, which took several directions. After receiving a first place award at the Utah State Fair, she immediately began teaching art in secondary education. Rideout then became a commercial artist for the State Board of Education, creating illustrations for educational TV and art for their printed materials.
In 1968, Candace started her own advertising agency.  During this period she won numerous national awards for commercial art.  
Rideout served as the Chairperson for the Holladay Arts Council for two years and was a founding member of this arts council. She continues to try to involve the community in art related events. Maintaining a studio allows her to devote concentrated blocks of time to oil painting and teaching. She is currently a member of Laguna Plein Air, California Art Club, and Midway Art Association.
Recent awards include: Best of Show in the Provo Freedom Festival, Best of Show at Eccles in Ogden, Intermountain Artist's "Member of Merit" Show, and The Peoples Choice Award City of Holladay Show, 1st Place in the Intermountain Artist's Oil Division, !st place in the Holladay Plein Air, and Third Place in the State Fair Plein Air, as well as placing in the Midway Plein Air each year from 2012 – 2018, including a purchase award. This year, Candace Rideout received 1st place in the Professional Division at the Utah State Fair and was an invited artist at the Maynard Dixon Country. Last year, She was a finalist in the Southwest Magazine Artistic Excellence Art Competition. Currently, she is a finalist in the 8th Annual PleinAir Salon Art Competition.