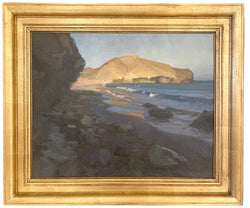 Cabo de Gata Sunset
Original Oil by Utah Artist Trijsten Leach
Art Size:  16" x 20"
Framed Size:  21.5" x 25.5"
"Cabo de Gata: where Andalusian deserts meet the turquoise waters of the Mediterranean. I was here in the heat of summer and the shadows from the cliffs above made painting here almost bareable. A slight breeze blowing off the water cooled things further and filled my lungs with the salty air and the scents of sand and drying seaweed."

Trijsten Leach grew up in California's Santa Cruz mountains and gained an early love of the mountains, the forests, and the oceans. As a teen surfing, hiking, biking and other outdoor activities had a big impact on him and would later influence his decision to become a landscape painter. 
It wasn't until college that Leach started to hone in on art as a profession. He studied art in Hawaii at Brigham Young University Hawaii. Before then he had never used oil paints and had only once or twice painted a picture. He did, however, always have a sketchbook and doodle often. 
For seven years after graduating his art production was limited as he had a nine-to-five desk job. After being laid off with nearly 700 other employees He had an option: continue working at a desk or dedicate his life to creating artwork for a living. It was, in large part, due to the encouragement of his wife Sarah, to choose the latter. 
In April of 2017 Trijsten started to paint full time and began to build where he had left off in college. Plein air painting has been a crucial part to his growth and learning as he seeks to learn and improve his artistic skills and storytelling abilities. Through a series of fortunate events he was able to study under the renowned California Landscape Artist John Burton. In his own words, "That experience did more for my art education than any other instruction and learning I had done previously. It was a huge blessing and really pointed me in the right direction as an artist." 
Since then Trijsten has participated in many shows and competitions, as well as winning awards, including 1st place at the Driggs Idaho Plein Air Competition. Leach sells his work in a number of Utah galleries. 
Travel has also played an important part in Trijsten's work, and he and his family have spent a lot of time traveling in the US and Europe, gathering reference and inspiration from the unique landscapes and cultures abroad.  Trijsten currently lives in central Utah along the Wasatch mountain range with his wife and two children.