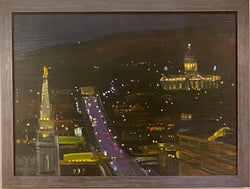 SL Cityscape with Capital
Original Oil by Dan Baxter
Framed Size: 11" x 15" 
Dan Baxter (1948 - 1986)
Baxter was raised in Rose Park, in Salt Lake City's northwest quadrant and attended West High, where he was a popular cheerleader. Baxter had taken art from Frank Ericksen, a former medical illustrator and well regarded palette-knife painter. Soon after high school graduation, Dan served an LDS mission to the Chicago area. He attended the University of Utah on several scholarships (for art, academics and gymnastics) and graduated with a BFA in 1973.

Though he established himself early as a gifted landscapist and still-life artist, Baxter's real gift was as a figurative artist. Bob Olpin in Artists of Utahlauded him as "...one of the most talented figure painters and portraitists to come out of the University of Utah classroom of Alvin Gittins, who was the master of painting in that realm." After a stint teaching at the U, young Baxter was encouraged by Gittins to study in New York at the Art Students League, where he received an outstanding student certificate. Returning to Utah, Baxter received commissions from California patrons that extended his reputation for quality figurative work.